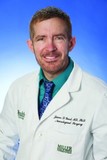 James D. Guest, M.D., Ph.D.
神经外科主任医师
迈阿密治疗瘫痪工程,迈阿密大学,弗罗里达州,美国
研究方向
脊髓损伤后的恢复; 组合疗法在临床前研究和早期临床试验中的应用。
Guest实验室当前研究的重点是通过自体胶质细胞的移植来修复脊髓损伤。我们利用几种类型的动物模型,重点解决与人类临床应用有关的移植问题。我们也强调微创手术病变制作和移植技术。同时运用复杂的结果评估技术来评估急性和慢性损伤状态下的移植效果。这些评估技术包括手部功能和步态的运动学评估,病变部位传导的电生理学研究以及感觉测试。其他研究领域包括人死亡后的脊髓组织研究,术中人体脊髓传导研究和人体临床试验研究设计。
Selected Recent Publications
Jones LAT, Bryden A, Wheeler TL, Tansey KE, Anderson KD, Beattie MS, Blight A, Curt A, Field-Fote E, Guest JD, Hseih J, Jakeman LB, Kalsi-Ryan S, Krisa L, Lammertse DP, Leiby B, Marino R, Schwab JM, Scivoletto G, Tulsky DS, et al. (2017) Considerations and recommendations forselection and utilization of upper extremity clinical outcome assessments inhuman spinal cord injury trials. Spinal Cord doi: 10.1038/s41393-017-0015-5.
Bastidas J, Athauda G, De La Cruz G, Chan WM, Golshani R, Berrocal Y, Henao M, Lalwani A, Mannoji C, Assi M, Otero PA, Khan A, Marcillo AE, Norenberg M, Levi AD, Wood PM, Guest JD, Dietrich WD, BartlettBunge M, Pearse DD (2017) Human Schwann cells exhibit long-term cell survival,are not tumorigenic and promote repair when transplanted into the contusedspinal cord. Glia 65:1278-1301.
Anderson KD, Guest JD, Dietrich WD, Bartlett Bunge M, Curiel R, Dididze M, Green BA, Khan A, Pearse DD, Saraf-Lavi E, Widerström-Noga E, Wood P, Levi AD (2017) Safety of Autologous Human SchwannCell Transplantation in Subacute Thoracic Spinal Cord Injury. J Neurotrauma 34:2950-2963.
Kwon BK, Streijger F, Hill CE, Anderson AJ, BaconM, Beattie MS, Blesch A, Bradbury EJ, Brown A, Bresnahan JC, Case CC, Colburn RW, David S, Fawcett JW, Ferguson AR, Fischer I, Floyd CL, Gensel JC, Houle JD, Jakeman LB, et al. (2015) Large animal and primate models of spinal cord injuryfor the testing of novel therapies. Exp Neurol 269:154-168.
Grossman RG, Fehlings MG, Frankowski RF, Burau KD, Chow DS, Tator C, Teng A, Toups EG, Harrop JS, Aarabi B, Shaffrey CI, Johnson MM, Harkema SJ, Boakye M, Guest JD, Wilson JR (2014) Aprospective, multicenter, phase I matched-comparison group trial of safety, pharmacokinetics, and preliminary efficacy of riluzole in patients withtraumatic spinal cord injury. J Neurotrauma 31:239-255.