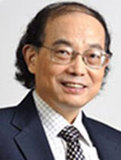 Xin-Yuan Fu, Ph. D.
教授和高级主要研究员
生物化学系,新加坡癌症科学研究所
新加坡国立大学,新加坡
南方科技大学,中国
个人简介:
傅新元,国际知名分子生物医学和生物化学学者,教授, 创业者。中国著名遗传学家谈家桢的研究生(复旦大学,1982). 首届 CUSMBEA (中美分子生 物学生物化学交换计划)学者, 于 1982 -1988 年在纽约哥伦比亚大学攻读分子生物学博士学位, 从 师 James Manley,88-91年,在纽约洛克菲勒大学做博士后, 从师 James Darnell。曾任美国纽约西奈山医学院助理教授 (1992-1994),执教于耶鲁大学医学院病理系和免疫学系十年 (1994-2003 )。先后任美国耶鲁大学医学院病理学及免疫学副教授,耶鲁大学癌症中心研究员,耶鲁大学病理医学博士委员会主席(1996-2003)。以及印第安纳大学免疫学教授(2004-2015)等。傅新元是较早回国作贡献的科学家。 1999-2006年, 傅新元任清华大学清华人类基因组研究所,所长,教授2008年任新加坡国立大学医学院生物化学系,系主任,现在是教授,高级研究员。2016年—至今,任南方科技大学生物系兼职讲座教授。
研究方向:
近二十多年来, 傅新元实验室在生命科学,基础及应用医学上做出一系列国际一流的贡献。傅新元在科学上的最重要成就是发现 JAK-STAT 信号传导通路, 并阐明 JAK-STAT 在生命及疾病中的重大作用。JAK-STAT 研究领域的科学论文已超过三万篇,现在每年仍有五千篇以上的有关 JAK-STAT 的科学论文发表。
Selected Recent Publications
Fu, X.-Y, Schindler, C., Improta, T., Aebersold, R., and Darnell, J. E.(1992) The proteins of ISGF3, the IFN-alpha induced transcriptional activator, define a gene family involved in signal transdution. Proc. Natl. Acad. Sci. USA, 89:7840-7843. (This paper described original cloning and discovery of the first two STAT genes and the STAT protein family)
Fu, X.-Y. (1992) A transcription factor with SH2 and SH3 domains is directly activated by an interferon-alpha-induced cytoplasmic protein tyrosine kinase(s). Cell, 70:323-335. (This paper described Original Discovery of the STAT Signaling Pathway).
Chin, E. Y., Kitagawa, M., Su, W. S., You, Z.-H., Iwamoto, Y., and Fu, X-.Y. (1996) Cell Growth Arrest and Induction of Cyclin Dependent Kinase Inhibitor p21WAF1/CIP1 Mediated by STAT1. Science 272: 719-722. (This paper presented the first evidence that STAT regulates cell proliferation and apoptosis)
Su, W.-C. S., Kitagawa, M., Xue, N., Xie, B., Garofalo, S., Cho, J., Deng, C., Horton, W. A., and Fu, X.-Y. (1997). STAT1 Activation Induced by Mutant FGFR3 in Thanatophoric Dysplasia Type II dwarfism. Nature 386, 288-292. (This paper presented the first evidence that STAT is involved in a human genetic disease)
Dang Vinh Do, Jun Ueda, C Lorthongpanich, Wenjun Zhang , Akira Moh , Yi Zhou, Bo Feng, Guoji Guo, Peiyu J Lin, Md Zakir Hossain, Daniel M. Messerschmidt , Qiang Wu, Paul Robson, Huck Hui Ng, Lorenz Poellinger, Barbara B. Knowles, Davor Solter and Xin-Yuan Fu (2013) A Genetic and Developmental Pathway from STAT3 to the OCT4-NANOG Circuit Essential for Maintenance of ICM Lineages in vivo. Genes & Develop, 27(12):1378-90.
Wang Y, Ning H, Ren F, Zhang Y, Rong Y, Wang Y, Su F, Cai C, Jin Z, Li Z, Gong X, Zhai Y, Wang D, Jia B, Qiu Y, Tomita Y, Sung JJ, Yu J, Irwin DM, Yang X, Fu XY, Chin YE, Chang Z. GdX/UBL4A Specifically Stabilizes the TC45/STAT3 Association and Promotes Dephosphorylation of STAT3 to Repress Tumorigenesis. Mol Cell. 2014 Mar 6;53(5):752-65.
Wanqiang Sheng, Fan Yang, Yi Zhou, Henry Yang, Pey Yng Low, David Michael Kemeny, Patrick Tan, Akira Moh, Mark H. Kaplan, Yongliang Zhang and Xin-Yuan Fu, A distinct subset of T helper cells regulated by STAT5 is crucial for autoimmune neuroinflammation, Cell Res. 2014 Dec;24(12):1387-402. (This paper discovered Th-GM T cell subset for inflammatiion)