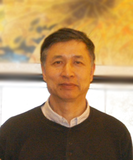 Yi Ping Zhang, Ph.D.
研究科学家
诺顿神经科学中心,诺顿医疗中心
路易斯维尔,肯塔基州,美国
Selected Recent Publications
Cao M, Hu PP, Zhang YL, Yan YX, Shields CB, Zhang YP, Hu G, Xiao M (2018) Enriched physicalenvironment reverses spatial cognitive impairment of socially isolated APPswe/PS1dE9 transgenic mice before amyloidosis onset. CNS Neurosci Ther 24:202-211.
Wu Q, Zhang YJ, GaoJY, Li XM, Kong H, Zhang YP, Xiao M, Shields CB, Hu G (2014) Aquaporin-4mitigates retrograde degeneration of rubrospinal neurons by facilitating edemaclearance and glial scar formation after spinal cord injury in mice. Mol Neurobiol 49:1327-1337.
Liu NK, Zhang YP, Zou J, Verhovshek T, Chen C, Lu QB, Walker CL, Shields CB, Xu XM (2014) A semicircular controlled cortical impact produces long-term motor and cognitive dysfunction that correlates well with damage to both the sensorimotor cortex and hippocampus. Brain Res 1576:18-26.